strength and stability
Yoga works holistically to strengthen the body as a unit. With attention to alignment, yoga trains the muscles and tendons to stabilize the joints creating balance and preventing both acute and repetitive-stress injuries.
flexibility
Specific postures stretch tight muscles and encourages full range of motion, thus allowing the most efficient path for body movement. Stretching elongates muscle fibers and helps the body process lactate after exercise and improves muscle oxygenation.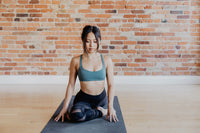 mindfulness
Quieting the mind and coming into stillness brings a sense of ease and calm, while providing inner focus and body awareness